What are Towing Mirrors?
Towing a travel trailer is great fun, but only when you can see it. This is why towing mirrors are absolutely necessary on any truck that will pull weight. Tow mirrors extend outward further than a standard truck mirror, which dramatically increases the driver's rearward vision.
If your trailer has something on it, you will want to keep it in your peripheral vision at all times. A nice pair of extension mirrors for towing will allow you to do this. The only challenge of upgrading to trailer towing mirrors will be deciding which options are best suited for your truck, so let's go over some of those so you can make a more informed decision.
What Are Manual Towing Mirrors?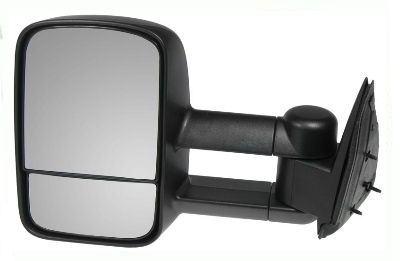 Manual tow mirrors are the most basic design, and they are an easy upgrade to do in your own driveway. Like all manual mirrors, they don't have any wiring. This makes the already simple installation of a mirror even easier. On most trucks (and cars for that matter), removal of the door panel is all that is needed to access the bolts holding the tow mirror on. If you can remove a door panel, you can most certainly upgrade to a towing mirror.
What Are Power Towing Mirrors?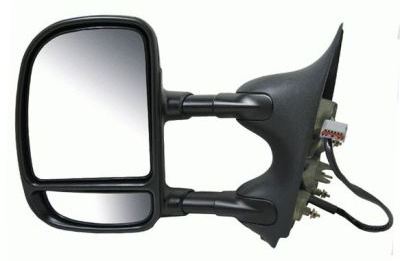 Power towing mirrors are the next logical step up from manual towing mirrors. Power mirrors often look identical to the manual mirror, but they have electronics inside them, and two or three wires hanging out of their base. These wires plug into the door wiring on the truck, which is woven through the door and connects to the power mirror switch. Whether it is a replacement or an upgrade, installation of a power tow mirror is often as easy as a manual tow mirror, with very little creativeness involved.
What Are Telescoping / Telescopic / Extendable Towing Mirrors?
It would be impossible to discuss trailer towing mirrors without bringing up the topic of telescoping mirrors. Telescoping mirrors, also known as telescopic or extendable mirrors, are a type of tow mirror that can extend out from the sides of the vehicle to increase rearward vision. This feature is most commonly found on towing mirror applications, because it isn't needed on the smaller standard-sized side view mirrors.
Telescoping mirrors could have all the same options as the non-telescopic mirrors, like power, manual, puddle light, turn signal, folding, etc, but they are just bigger and allow for more vision. The manual telescopic mirrors need to be extended out with physical human strength. The powered ones, on the other hand, allow you to sit inside the comforts of your truck while pushing a button to make the mirrors extend outward.
Telescopic mirrors can be a terrific upgrade if a truck already has towing mirrors but needs just a little more vision for whatever it is towing. Tow mirror extensions also add to the appearance of a truck by making it look bigger.
What Are Turn Signal / Directional Tow Mirrors?
Some of the fancier trucks on the road come with towing mirrors that have some elaborate options built into them. One of these options is turn signals. These turn signals/directionals can be built into the glass itself or molded into the mirror's plastic housing. Being that these are higher-end mirrors, these types of trailer tow mirrors often have other options, like puddle lights and heat. As you can imagine, as the options stack up, the price follows.
Some trucks were never built with a turn signal mirror option, yet the truck owners want them. Luckily for them, the mirror manufacturers are listening and creating mirrors with extra long wires that splice into the truck's turn signal harness. This may sound complicated, and it can be, but if you are the type of person that really enjoys cool features and additional safety when towing, then it is totally worth it. If a truck did have this option from the factory with the standard size mirrors, the larger tow mirror wiring harnesses are often designed to plug right in without any drama. Unfortunately, this completely depends on the year, make, and model of the truck.
How Do I Know If a Towing Mirror Will Fit My Year, Make, and Model?
Once you know your mirror operation (manual or manual remote), you can find an exact replacement that will fit your vehicle. If you have a power mirror, you will need to know your mirror's options. A tow mirror with options that match the options of the original side view mirror will fit your vehicle.
There are some upgradeable tow mirrors with more power options that can be added as an upgrade depending on the vehicle and its current mirror type.
To upgrade to more options, the new tow mirror will come with a kit to upgrade or it may be plug and play.
How Do I Know If This Tow Mirror's Power Options Are an Upgrade?
You can tell if a mirror on our site has upgrades by reading its specifications listed under the description tab on the product page.
A mirror with the "upgrade" label is likely to come as a kit with a switch, wiring, and installation instructions.
A mirror with the "plug-and-play" label will come with an electrical connector that will connect to the integrated wiring already present in the vehicle. A mirror with this kind of upgrade may also come with a kit and instructions.
If a specification is not labeled as "upgrade" or "plug-and-play", the original mirror's options must match every option listed on the description of the replacement mirror, or the mirror may not function as intended.
Once you know what options your current mirror has and you have matched them with the product description on our site, you can verify fitment by entering your Year, Make, and Model before checkout.
To help with your repair, search our video library for a how-to video that can show you how to replace your mirror yourself.